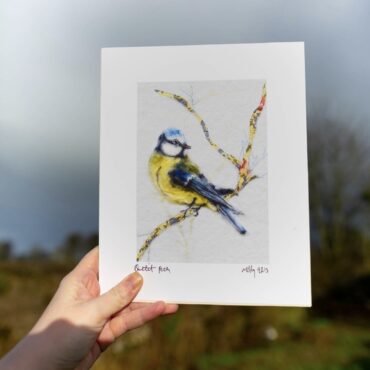 Bluetit Perched Upon...
€25.00 – €55.00
Its always the quiet ones and in this case the little sweet ones! This piece has a subtle vintage feel to it with its porcelain blues and floral fabric. Fitting that the bluetit was notorious was stealing the curd from the top of milk bottles in times gone by.
The floral branch was created using vintage inspired fabric free motioned on to the original piece to give it a delicate and darling look. Made from wool, then intricately detailed by hand using a single needle and finally transformed into this adorable print.
A perfect gift for vintage lovers, garden bird friends and for all homes of wildlife.
Size: A4 including white border.
Compare