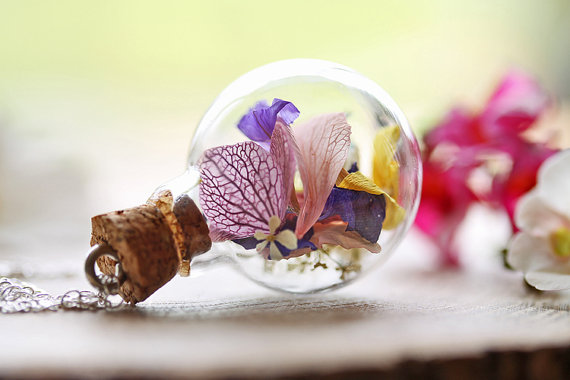 Real Wildflower Necklace...
€55.00
Can you imagine a summers day encapsulated into something small, to fit in the palm of your hand? Well I think this little wildflower pendant comes pretty close! This sweet glass pendant features a glass globe filled to the brim with a magical mix of colourful flower petals that I pick from the Summer meadows and also gather from my little cottage garden. The flowers inside can include; Queen annes lace, hydrangeas, marigolds, delphinium, moss, marigolds and whatever other pretty pieces I have to hand! As I use whatever flowers I have to hand at the time, the combination may vary from the one pictured. The petals have been carefully preserved to retain their colour but please take care to keep this piece dry and store it away from direct sunlight.
This would make such a lovely gift for any lover of nature and flowers, of summer meadows and bright colours, a passionate gardener or someone who just appreciates the pretty little things in life. The glass bottle is about 30mm in size.
9 in stock
Compare