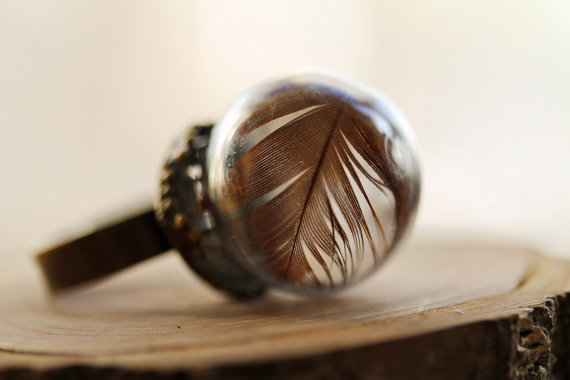 Feather Orb Ring
€35.00
Unusual woodland inspired nature specimen ring, featuring a real pheasant feather carefully preserved in an elegant glass orb, a beautiful woodland keepsake for anyone who loves nature and unusual jewellery.
The glass dome measures is mounted onto a thick nickel-free bronze ring base which is fully adjustable, The glass dome is tougher than you would think, and can handle normal wear.
The feathers I have are in various shades of brown, tan and ivory with slightly different marking and patterns, the one you receive may differ from the picture, please have a look at the last picture to see some of the variations.
The feathers I used to make these were gathered from a wild bird that had died of natural causes. No animal was harmed to make them.
1 in stock
Compare