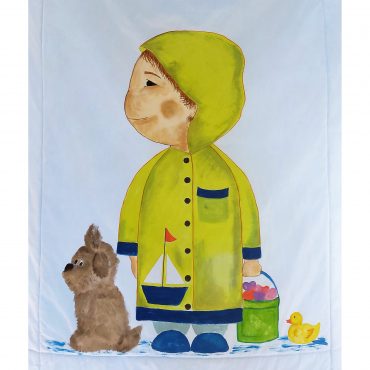 Rainy Day Baby...
€70.00
Unique hand designed, painted and sewn
Kids Blanket
Ideal for babies up to 7 years old
Size:100cm x 130cm
Front side: 100%cotton
Back side: Fleece
Filling:Polyester Wadding
Color: white
Used skin friendly "Pentart" fabric paint
A little surface color wear is possible after the first wash, this is a natural process for hand painting
The decorated fabric can be washed in the washing machine on a cold gentle wash or hand wash.
Do NOT iron the pattern
do NOT bleach
Do NOT tumble dry
Dry flat
Note: Each blanket is hand painted and therefore unique, which adds to their charm! Please be aware that there will be small differences between your piece and the piece photographed. Pieces are made to order so please allow 3-5 working days before dispatching. If you are in a rush, please get in touch and we will do our best to get it to you as quickly as possible!
4 in stock
Compare