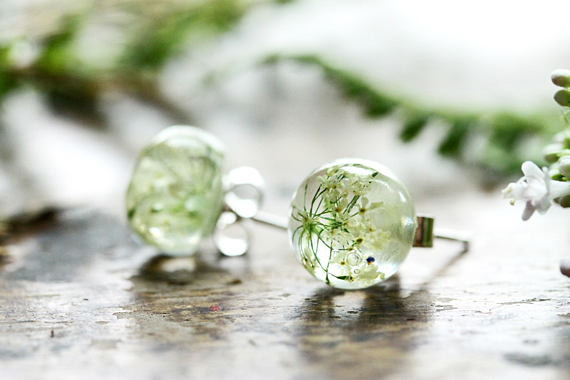 Queen Annes Lace...
€40.00
These magical white Irish wildflower earrings were made using sprigs of the daintiest Queen Annes lace blossom which I dried and encapsulated in tiny resin spheres to create a timeless keepsake from the Summer meadows. The resin brings to plants to life to create a vivid & enchanting piece of jewellery that will never wilt. The resin globes measure 10mm so these are a very dainty little pair of earrings.
The resin orbs are made of crystal-clear resin, real ivory white flowers from my wanders about the Irish hedgerows and sterling silver post backs.
Your earrings will arrive safely packaged in one of my beautiful signature gift boxes, ready for gift-giving and with no need for further wrapping.
Polish your earrings with a micro-fibre cloth and store in a jewellery box when you're not wearing them to protect them from scratches and unnecessary exposure.
Please be aware that there may be some very small bubbles in your piece. Someone recently described them as resembling little dew droplets sitting on the flowers & leaves and I like to think they add their own little touch of life to each piece <3
1 in stock
Compare