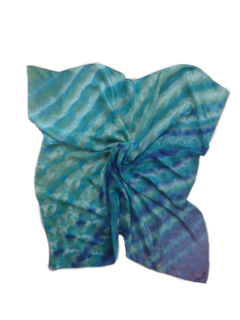 Square Silk Scarf...
€85.00
The Classic Square is a timeless signature piece, a gorgeous accessory to any outfit. This scarf is an absolute never-to-be-repeated one-off in shimmering, lustrous 100% flat crêpe silk. It has been meticulously hand pleated using Shibori techniques, after which it has been hand-dyed. The colours are luscious sea colours of brilliant blue, aqua and seafoam.
Dimensions- 84cm x 84cm approximately (as this is a hand made product, there may be a slight variation in size). Hand-hemmed. Only one available. ONE-OF-ONE
Presentation- Gift-boxed. Dimensions- 25cm x 25cm. Rothlú label with care instructions. Maker's bio on inner lid. All boxes have a bespoke batik label created on beautifully textured paper to suit each individual scarf. Please note: the handmade batik square on box shown may differ slightly from the box for this scarf, as we endevour to have a batik square that bests suits your particular scarf on the bespoke box supplied.
Note: Each piece is one of a kind which adds to their unique charm, so although the colour combination will be the same, each piece will differ slightly from the piece photographed. As these pieces are made to order it may take up to 1 week for item to be dispatched.
5 in stock
Compare