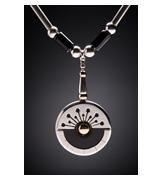 Millennium Pendant with...
€330.00
Handmade Reversible Pendant made from Sterling Silver with Ebony and a 14ct Gold-Filled Bead in the centre. Threaded on a Sterling Silver Chain with silver and onyx tubes and 14ct gold-filled beads. Designed and Handmade in Ireland.
Note:This piece is made to order so may take up to 10 days to dispatch.
6 in stock
Compare